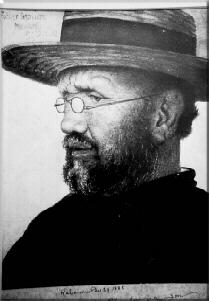 I read a few days ago that Fr. Damien of Molokai was going to be canonized--how exciting! There is an article about it at Catholic World News,
here
.
I first heard about Father Damien by watching a documentary called
An Uncommon Kindness: the Father Damien Story
, which came out a few years ago and was narrated by Robin Williams. It's a very well done film--I highly recommend it, and have used it for several different courses on Christianity.
Part of the fascination is that it offers students a greater understanding of leprosy. Leprosy is mentioned so frequently in scripture, yet we generally don't have a clear understanding of what it is. This film includes images and interviews with people who have/had the disease (now called Hansen's Disease), and also those who were exiled because of it.